Timetable Structure
The structure of the Unley High School timetable will change at the beginning of the 2017 school year.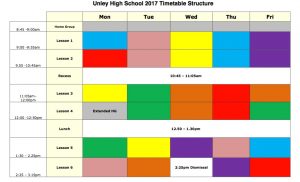 Day start and end times remain the same. However, Home Group session times have been moved to the start of every day. Please note also, that Extended Home Group will occur during Lesson 4 on Monday.
Students are expected to attend all Home Group sessions.
Click here to download a PDF version of the timetable structure.